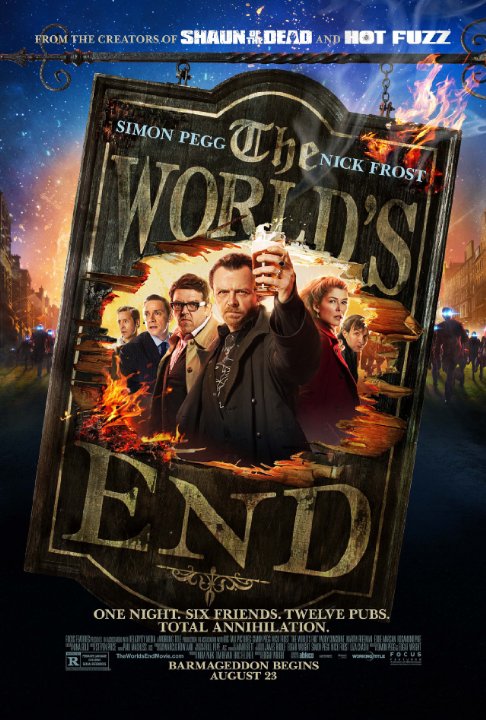 The latest Edgar Wright/Simon Pegg/Nick Frost adventure is also the third part of the so-called "Cornetto" trilogy – last year, the festival program included Shaun of the Dead (2004), screened in the zombie marathon.
https://www.youtube.com/watch?v=hFo7eJR2cvc
A highly unlikely mixture of Invasion of the Body Snatchers and A la recherche du temps perdu, joyously directed and played by the crème de la crème of the modern British cinema (in addition to Pegg and Frost, the film stars Martin Freeman, Eddie Marsan, Paddy Considine, Rosamund Pike while Pierce Brosnan, Rafe Spall, Alice Lowe, David Bradley, Michael Smiley and Bill Nighy all have cameos), The World's End was declared the Best British Film at the Empire Awards 2014.
Besides The World's End, the parallel section TENEBRE presented by TV 1000 offers a rich and very fresh array of genre fare:
Rigor Mortis (2013) – dozens of international festivals (world premiere in Venice) and two main awards in Brussels and Gerardmer for this macabre cocktail served with a dressing of special effects by its legendary co-producer, Takashi Shimizu; Hong Kong pop-star Juno Mak makes his directorial debut with this updated "Chinese ghost story".
https://www.youtube.com/watch?v=wd-GUUREFB8
Witching and Bitching (2013) – Alex de la Iglesia combines the sparkling craziness of El dia de la Bestia and Accion mutante with the monstrous extravaganza of Balada triste de trompeta and basically wins all the available "audience awards"; and about 9 Goyas.
https://www.youtube.com/watch?v=ISqG3zjZZVk
Here Comes the Devil (2012) – five (!) Austin Fantastic Fest awards (film, director, screenplay, actor and actress) for this supernatural/bloody concoction made by the Spanish director Adrian Garcia Bogliano in that deep '70s vein which made him famous (see also: the B segment in The ABCs of Death).
https://www.youtube.com/watch?v=Sc1t_ONilkg
All Cheerleaders Die (2013) – after two ill-fated experiences (The Woods was re-cut and he was fired from Red), American auteur Lucky McKee returns full throttle, in the mood for laughing and butchering; the title (almost) says it all about this remake of the low budget version co-written and co-directed with Chris Siverston in 2001.