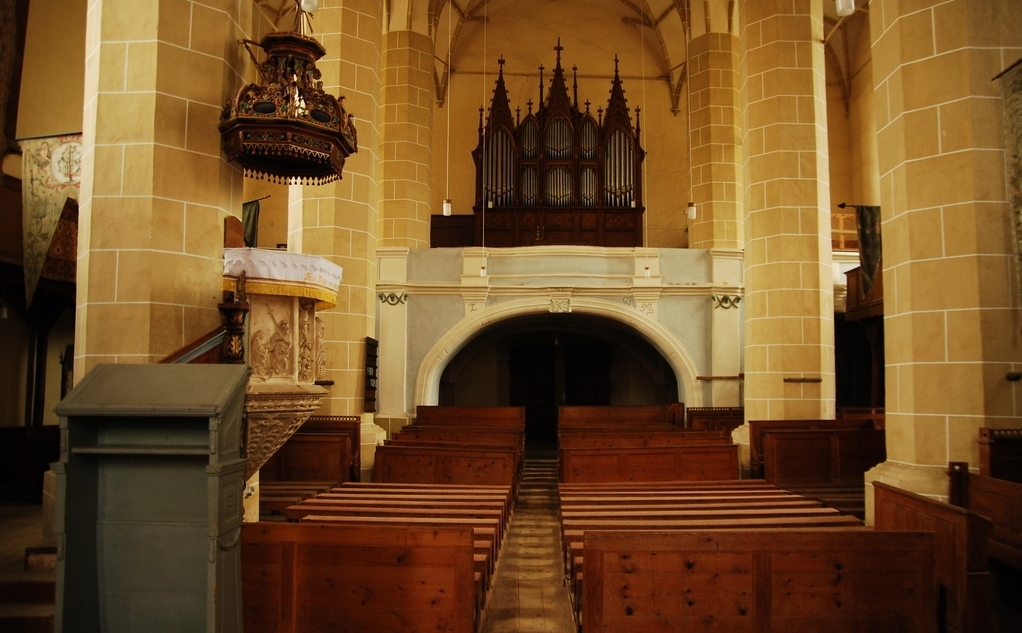 The second edition of "FULL MOON" Horror & Fantasy Film Festival, the first and only Romanian festival focusing exclusively on genre cinema, will take place between August 14 and 18 in Biertan, Sibiu county.
The special guest of the festival is the writer/director KRISTINA BUOŽYTĖ, a Film Directing graduate from The Lithuanian Academy of Music and Theatre. Her debut feature film, The Collectress (2008), won many national awards and was selected in an impressive number of festivals. Kristina's second film, Vanishing Waves (screening in the "Tenebre" section of "Full Moon"), is the winner of the 2012 Melies awarded by the European Federation of Fantastic Film Festivals (EFFFF) to the best European genre film. At the same time, Kristina will be a member of the feature competition jury which will grant the 2013 "Full Moon" trophy. The other two jury members are CHRISTIAN HALLMAN, Swidish director/producer, EFFFF coordinator and programmer for Lund International Fantastic Film Festival and TOMAŽ HORVAT, artistic director and founder of Grossmann Film Festival, the only genre event in the region of former Yugoslavia.
This year, the festival decided to tackle literature, as well. The festival team members are the first book donors, thus contributing to the future FANTASTIC LIBRARY OF BIERTAN. Those who want to be a part of this project are invited to come to Biertan with a genre book (SciFi, horror, crime, fantastic) in exchange for a special "Full Moon" cocktail.
Beside the feature and short competitions and the "Tenebre", "Full Moon Classic", "Grindhouse" and "American Masters" parallel sections, "Full Moon" organized a series of special events and surprises…
EINUIEA LIVE – "THE KURUC ATONEMENT": World music band EINUIEA (Silviu Fologea – guitar, Elena Șulea – violin and vocal, Călin Torsan – pipes & Juan Carlos Negretti – percussion) was born 10 years ago in Bucharest. As a commemoration of the 1704 Kuruc invasion which left the city of Biertan devastated, the EINUIEA concert will take place Saturday, August 17, from 5 PM, in the fortified church.
EDUCATIFF FANTASTIC: The project provides the children of Biertan with a unique opportunity to watch feature films and to participate in film-making workshops. FILM has the gift of making children hungry for knowledge and of nurturing the spirit and the imagination. Every child deserves a cinematic experience! EducaTIFF takes place between 15 and 17 of August, in the local school.
"BY VASILE ȘUȘCA" – FOLK MASKS EXHIBITION: Vasile Șușca's masks are hilarious, sad, or grotesque, depending on the master's decision. Far from being simple accessories the folk masks made by Vasile Șușca represent a fantastic old world dominated by spirits and traditions from Maramures. Exhibition open throughout the festival at "The Gallery".
CRISPUS: THE ART OF FIRE: Crispus was formed in the beginning of 2003 in Sibiu. With more than 10 years experience in street performances, Crispus has impressed audiences since their first shows – today, the most successful domestic group of fire performers has in its portfolio hundreds of shows that gathered thousands of people both nationally and abroad. Crispus: The Art of Fire takes place on Friday, August 16, at 9 PM, in the Central Square.
AFTER MIDNIGHT: Starting with 12:30 PM, "La Tarus" becomes the host of the "Full Moon" Parties. Thursday come CAMPSAUVAGE, a duo of artists from Sibiu, launched in 2010 and composed by the French Coralie de Gonzaga (formal member of the French Cricket Club DJs, resident DJ Shamrock, Sapa, Futuregarden or Lutz club) and Romanian aBigQuestionMark. Friday is for the enigmatic SINISTER EXAGGERATORS' HAUNTED MACHINES, born out of nowhere in 2006 and keen on delivering a well-tensioned set of rhythms essential for the haunting dances. Last but definitely not least, the DJ party nights come to o close on Saturday with CANDIE HANK, a specialist of electronic music from raw acid drum 'n' bass to soundtrack oriented, cartoon rap, sound art and futuristic 8bit cumbia swing, involved in about 80 releases and countless remixes besides music for film, videogames, theater, audioplays and sound installations.
Additional info about transport and accommodation on: www.lunaplinafestival.ro. Festival passes can be bought on: http://biletmaster.ro/ron/PlaceInfo/1805666/Full-Moon-Festival.
The first edition of "FULL MOON" took place between 16 and 19 of August 2012 and gathered over 3000 viewers. This year, our festival remains completely independent and self-financed. In order to accomplish everything it set out to do and in order to have an Europa-worthy edition, the team decided to launch a 100% Romanian crowd-funding with a target of 20.000 lei. This is just a fraction of the budget, but it's vital for turning "FULL MOON" into the ultimate fantastic experience.
Our partner "in crime" is Crestemidei.ro, a platform designed exclusively for crowd funding campaigns. For additional info please go to: http://crestemidei.ro/en/lunaplinafestival. There's no such thing as "a bit of money". There are only lovers of cinema.