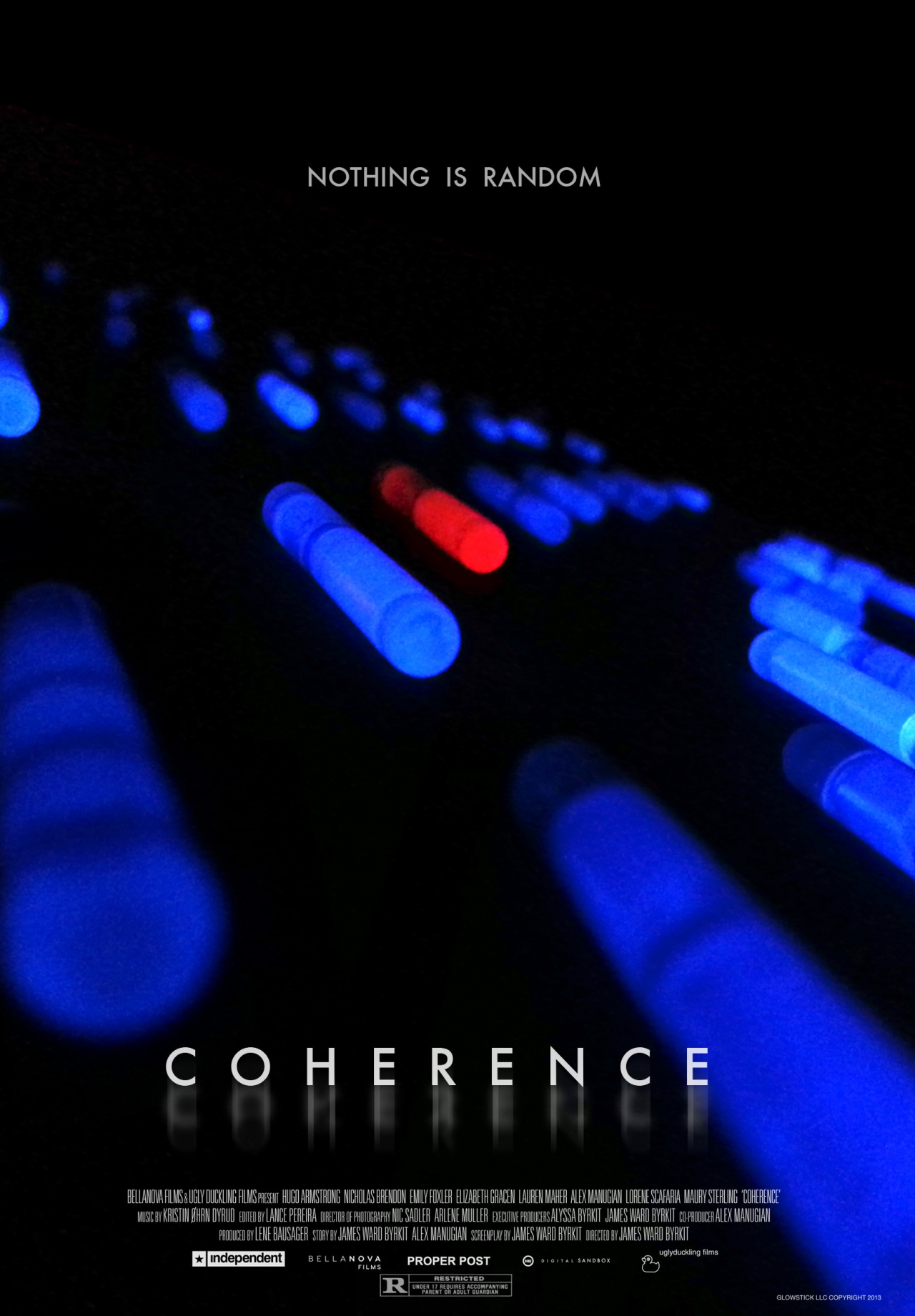 The movies, coming from the United Kingdom, the United States of America, Argentina and New Zealand have been chosen by the festival's artistic director Andrei Crețulescu and will have exclusive premiere screenings in Romania.
This year's jury is composed of ARTUR BRZOZOWSKI (Fantasy FilmFest programmer – Germany), TOM LUKASZEWICZ (Black Bear Filmfest co-director – Poland) and MIHAI CHIRILOV (TIFF artistic director) and will choose the winner from the following titles:
Coherence (U.S.A., 2013) – eight friends meet up for a very Buñuel-like dinner on the evening in which a comet gets dangerously close to Los Angeles; any additional words about James Ward Byrkit's semi-improvised low budget debut would ruin the viewer's pleasure and frights. This year's mindfuck, for sure. Best screenplay, Sitges 2013.
https://www.youtube.com/watch?v=kxAOewNzz-8
In Fear (United Kingdom, 2013) – a couple is being harassed on a highway in rural Ireland; Jeremy Lovering (a british TV veteran – Sherlock, MI-5) makes the leap to the big screen with an atmospheric chiller that involves a car, two (well, three) characters and a neverending road. World premiere Sundance 2013.
https://www.youtube.com/watch?v=D5ZbJgUOwwU
It Follows (U.S.A., 2013) – a not so subtle but extremely appropriate metaphor about STDs; David Robert Mitchell's film fascinated and frightened Cannes' critics and viewers, where it was exclusively shown in the Semaine de la critique section. Before Biertan, the movie screened only in Karlovy Vary.
Sonno profondo (Argentina, 2013) – a gloved killer, a dead prostitute, a macabre accident, ultra-saturated color palette, moriconnesque score, a lot of blood and little dialogue; an extremely pulpy and very 70s giallo, written, directed, edited, acted and scored by first timer (!) Luciano Onetti. World premiere Sitges 2013.
https://www.youtube.com/watch?v=4-wqMldOOT4
Summer of Blood (U.S.A., 2014) – a slimy, deadbeat and rather boring individual gets bitten by a vampire and turns into a sex machine; Onur Tukel's satire behaves as if Woody Allen had started a low-budget True Blood remake. The movie premiered at Tribeca, in April.
https://www.youtube.com/watch?v=hsWxdAmsc1g
What We Do in the Shadows (New Zealand, 2014) – Vladislav (Jemaine Clement), Viago (Taika Waititi) and Deacon (Jonathan Brugh) are old-school vampires, sharing an apartment in Wellington and happily/thirstily agree to be filmed for a made-for-TV documentary. This /bonkers mockumentary co-directed by Waititi and Clement (Flight of the Conchords) world premiered at Sundance 2014.
https://www.youtube.com/watch?v=Cv568AzZ-i8
Taika Waititi (Oscar-nominated in 2005 for his short film, Two Cars, One Night and author of the cult-comedy Eagle vs Shark) and Jemaine Clement (whom you've seen in Men in Black 3 and heard in Rio) are this year's special guests and will be in Biertan for the whole festival.
Apart from the feature length competition, the festival will present, again, a selection of horror and fantasy short films that will have exclusive showings in Romania. The short film competition's programmer, Cristi Mărculescu, chose 15 films that will compete for the audience award:
Cualquier (r. Andrew Gipson Richardson, U.S.A., 2013)
Dive (r. Kaveh Nabatian, Canada, 2013)
Dystopia St. (r. David Cave, U.S.A., 2013)
Evil Twin (r. Christian Pfeil, Germany, 2013)
Figures (r. Miklos Keleti, Belgium, 2014)
Foxed! (r. James Stewart, Canada, 2013)
Horizonte (r. Aitor Uribarri, Spain, 2012)
M Is for Malnutrition (r. Peter Czikrai, Slovakia, 2013)
Mack Blaster (r. René Schweitzer & Sebastian Utech, Germany, 2014)
Mona (Alexis Barbosa, France, 2013)
Moritz and the Woodwose (Bryn Chainey, Germany, 2013)
Someone for Dinner (r. Desi Andras Gyorgy & Moray Gabor, Hungary, 2013)
Subterraneo (r. Miguel A. Carmona, Spain, 2013)
Svetovar Brewery (Vojta Zak, Czech Republic, 2012)
The Landing (r. Josh Tanner, Australia, 2013)