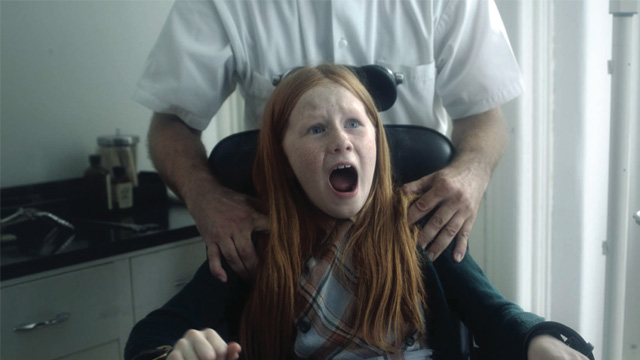 Besides the competitive feature section focused exclusively on first and second directorial efforts we announced last week, starting this year, the festival puts forward a competition of fantastic shorts made in the last two years and never before seen in Romania.
The ten competition titles, selected by the short section programmer Cristi Mărculescu, come from 8 countries including Romania and compete for the festival trophy which will be awarded based on the audience's vote. Here is the complete:
2 Hours – US 2012; by: Michael Baliff.
A la folie – France 2012; by: Naima Chebahi.
Wait for me – Romania 2013; by: Cristi Balint.
Attack of the Brainsucker – Canada 2012; by: Sid Zanforlin.
Eslabon – Spain 2012; by: Miguel Velilla Bellafont.
Good Night – Slovakia 2013; by: Peter Czikrai.
In Search for Inspiration Gone – UK 2012; by: Ashley Michael Briggs.
Der Penguin – Germany 2012; by: Anette Jung.
Sleep Working – UK 2013; by: Gavin Williams.
Zoo – France 2012; by: Nicolas Pleskof.
Out of competition, the FULL MOON festival decided to celebrate this year two countries whose fantastic cinema is more significant each year… Of course, this would be Spain and Belgium – two countries which, not at all accidentally, host two of the longest running genre festivals in the world (Sitges – 46 editions and Brussels – 32 editions).
Fantastic Best of Spania:
The Other Side– By: Alicia Albares.
Photo – By: Ismael Ferrer.
Sick Dead – By: Miguel G. Catalan.
Presence Required – By: Maria Gordillo.
Shoot for the Moon – By: Casandra Macia Gago.
Mysterio – By: Chema Garcia Ibarra.
Fist of Jesus – By: Adrian Cardona & David Munoz.
Fantastic Best of Belgia:
Let me go – By: Antoine Duquesne.
The Perfect Drug – By: Toon Aerts.
A Better World – By: Sacha Feiner.
Death of a Shadow – By: Tom Van Avermaet.
The Perturbation Theory – By: Cindy Bertet.
Happy Birthday, Mr. Zombie! – By: David Leclerq
Slutterball – By: Jérôme Vandewattyne.
The Little Green Man – By: Roland Lethem.
The rest of the selection, competition titles and special events will be announced in the following weeks. Additional info about transport and accommodation on: www.lunaplinafestival.ro. Festival passes can be bought on: http://biletmaster.ro/ron/PlaceInfo/1805666/Full-Moon-Festival.
The first edition of "FULL MOON" took place between 16 and 19 of August 2012 and gathered over 3000 viewers. This year, our festival remains completely independent and self-financed. In order to accomplish everything it set out to do and in order to have an Europa-worthy edition, the team decided to launch a 100% Romanian crowd-funding with a target of 20.000 lei. This is just a fraction of the budget, but it's vital for turning "FULL MOON" into the ultimate fantastic experience.
Our partner "in crime" is Crestemidei.ro, a platform designed exclusively for crowd funding campaigns. For additional info please go to: http://crestemidei.ro/en/lunaplinafestival. There's no such thing as "a bit of money". There are only lovers of cinema.