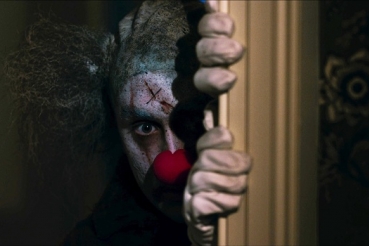 In addition to the already mentioned El cuerpo (Goya 2013 nominee), We Are What We Are and V/H/S/ 2 (Sundance 2013 official selection), this section puts forward five other films:
Vanishing Waves – uncountable festival selections and laurels for this impossible/cerebral love story which is the recipient of the 2012 "Melies d'Or" for the Best European Fantastic Feature; the Biertan screening will be attended by the director of the film, Kristina Buozyte.
Stitches – a clown comes back from the death and starts offing teenagers; this film by Irish director Conor McMahon (winner of the "Best Death" award at Frightfest 2012) manages to make you laugh your heart out and get really scared, both in the same frame
The Bay – the found footage genre endures a welcomed mutation and turns into a sort of ecological doc-horror; director Barry Levinson (Oscar for Rain Man) bloodily (but in cold blood) proves that talent has nothing to do with genre. Toronto Audience award – Midnight Madness.
The Lords of Salem – gothic, '70s like, bloody and respectful, a retro-stylized horror which Rob Zombie always wanted to see and make; a main part for his wife, Sheri Moon Zombie, special appearances by Patricia Quinn, Dee Wallace and Meg Foster, and a (literally) killer soundtrack.
Grabbers – the inhabitants of an Irish costal village block themselves in the pub and drink their way through an invasion of creatures with tentacles; director Jon Wright decided that fright and laughter go well together. Audience awards in Neuchatel an Strasbourg 2012.
The rest of the selection and the special events will be announced in the following weeks. Additional info about transport and accommodation on: www.lunaplinafestival.ro. Festival passes can be bought on: http://biletmaster.ro/ron/PlaceInfo/1805666/Full-Moon-Festival.
The first edition of "FULL MOON" took place between 16 and 19 of August 2012 and gathered over 3000 viewers. This year, our festival remains completely independent and self-financed. In order to accomplish everything it set out to do and in order to have an Europa-worthy edition, the team decided to launch a 100% Romanian crowd-funding with a target of 20.000 lei. This is just a fraction of the budget, but it's vital for turning "FULL MOON" into the ultimate fantastic experience.
Our partner "in crime" is Crestemidei.ro, a platform designed exclusively for crowd funding campaigns. For additional info please go to: http://crestemidei.ro/en/lunaplinafestival. There's no such thing as "a bit of money". There are only lovers of cinema.