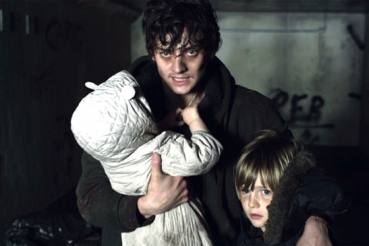 Starting this year, the festival has a competitive feature section focused exclusively on first and second directorial efforts. The seven films selected by the artistic director Andrei Crețulescu are Romanian premieres and come from countries such as Great Britain, Ireland, Mexico, Germany, Israel and the United States.
Berberian Sound Studio – the second feature by British director Peter Strickland (2009 Silver Bear with Katalin Varga) continues the filmmaker's obsession with sounds and sound design. Thus, Toby Jones is a sound designer hired by an Italian studio to create the sound mix for a pure-blood giallo… The film premiered in the official Locarno competition and was selected at Sitges, Edinburgh and Buenos Aires.
Cannon Fodder – the first feature film buy director Eitan Gafny as already received accolades in many American genre festivals and is the recipient of the "Best Independent Feature" award Las Vegas 2013. The Middle East conflict gets new absurd-macabre and often absurd connotations. Ladies and gentlemen, the first ever Israeli zombie movie!
Citadel – the debut film by Irish Ciaran Foy is a grotesque urban thriller in which an agoraphobic father tries to save his little girl from the clutches of a group of savage children from the projects. The film is one of the 2012 Melies d'Argent winners for the best European fantastic film of the year.
Come Out and Play – the Mexican adventure of an American couple turns into a nightmare when they reach an island from where the adults have mysteriously disappeared. Makinov – a Byelorussian Banksy – makes his fiction debut with a similarly bloody but a lot more nihilistic remake of the Spanish classic Who Can Kill a Child?(1976), warmly received in Toronto, Austin și Gerardmer.
Forgotten – the first film by German director Alex Schmidt had its world premiere in Venice 2012. Hanna and Clarissa are former best friends. When they go back on the island where they used to spend their childhood holidays, the ghosts of the past catch up with them. A revenge movie with a 100% Teutonic twist.
The Rambler – an almost unbearable experiment which looks as if Quentin Dupieux wanted to bring homage to David Lynch. But director Calvin Reeder, whose first film was the highly controversial The Oregonian, has an ace up his sleeve: Dermot Mulroney, perhaps one of the most underestimated actors of the past decades. The Rambler had its world premiere at a Sundance 2013.
Safety Not Guaranteed – a double "Best Screenplay" winner at Sundance & Independent Spirit, the debut feature film by American Colin Trevorrow manages to bring a fresh look to a 20 year old topic – time travel. Thanks to the success of this film, Steven Spielberg gave Trevorrow the dream job of a generation: to direct Jurassic Park 4.
The rest of the selection, competition titles and special events will be announced in the following weeks. Additional info about transport and accommodation on: www.lunaplinafestival.ro. Festival passes can be bought on: http://biletmaster.ro/ron/PlaceInfo/1805666/Full-Moon-Festival.
The first edition of "FULL MOON" took place between 16 and 19 of August 2012 and gathered over 3000 viewers. This year, our festival remains completely independent and self-financed. In order to accomplish everything it set out to do and in order to have an Europa-worthy edition, the team decided to launch a 100% Romanian crowd-funding with a target of 20.000 lei. This is just a fraction of the budget, but it's vital for turning "FULL MOON" into the ultimate fantastic experience.
Our partner "in crime" is Crestemidei.ro, a platform designed exclusively for crowd funding campaigns. For additional info please go to: http://crestemidei.ro/en/lunaplinafestival. There's no such thing as "a bit of money". There are only lovers of cinema.