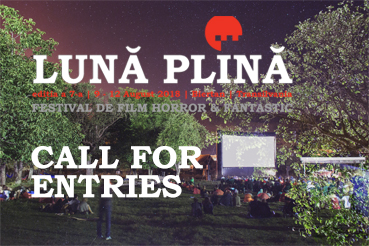 The 7th edition will take place between 9th and 12th of August, in Biertan, Sibiu county, Romania, the place that welcomed and hosted our wildest nightmares from the first edition on. May this year's edition thrive with your newly created monsters!
The festival screens genre features and shorts (fiction, animation, experimental), which will be chosen by programmer Cătălin Mesaru. The film submissions are opened online, on FilmFreeWay: https://filmfreeway.com/FullMoonHorrorFantasyFilmFestival.
The deadline for submissions, for both features and shorts, is June 15th, 2018. The festival will be admitting only films which:
– have been produced after January 1, 2017
– do not exceed a 25-minute length, if they are short films
– are subtitled in English (if the language spoken in the film is other than English)
– are not available on Youtube or on other platforms unless they are secured with a password (or with an unlisted link)
Last year, the festival screened 10 features and 19 short films, selected out of a record number of 1500 submissions.
Find out more on pe www.lunaplinafestival.ro
Facebook: https://www.facebook.com/LunaPlinaFestival/